A soothing and ultra-soft nest for your baby to feed, play, and for supervised rest. Portable and lightweight they are the perfect accessory to use inside or outside.   
Created for busy parents, the CUSHII Lounger cradles & comforts your baby
so you can do other things like taking a much-needed break, make dinner
or finally get to have that shower! An absolute life-line for any new parent.
  
| | |
| --- | --- |
| LIGHTWEIGHT & PORTABLE | Top Carry Handle - perfect to grab and go.  |
| BREATHABLE | Breathable allowing natural regulation of body temperature. Stays cool in Summer and Warm in Winter. |
| HYPO-ALLERGENIC | Dust Mite Resistant. Antibacterial. Mould resistant. |
| SUPERIOR COMFORT | Superior Softness, Contoured Midsection designed to cradle and Nurture.  |
| MOISTURE WICKING | Absorbs 50% more moisture than cotton, keeping your little one cool and dry |
| EASY CARE | Machine Washable |

Merula is a print designed by Australian Textile Designer Grace Garrett. The Merula print has also featured in Home Beautiful magazine and in Three Birds Renovations.
TENCEL™ fibers are extracted from sustainability grown wood and defines a new standard of sustainable and natural comfort. 
Customer Reviews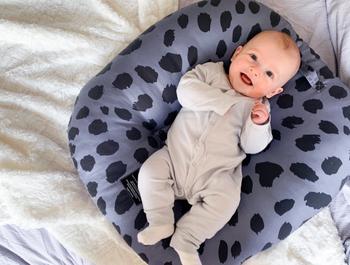 05/29/2020
One of the best purchases we've made
Absolutely love this lounger. I wish I had purchased it earlier. We are 4 months now and still fit perfectly. Beautiful design, easy to transport and an absolute must have! Will be buying another if I have a second baby!!
Beth M.

Australia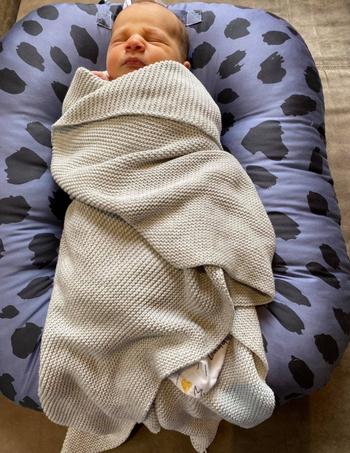 05/07/2020
Our baby is 4 days old and absolutely loves his Cushii. If he's sleeping, he's in his Cushii! Would highly recommend for first time parents as a must have product. We love our Cushii!
VM
Victoria M.
02/01/2021
Beautiful
The cushi lounger is so beautiful and soft for my new baby and the communication and shipping time was amazing
Kelly T.

Australia
01/15/2021
Worth every cent
We love it! So portable and our little man loves laying in it. One of the best things we have bought.
Larissa T.

Australia
05/29/2020
A must have!
Fabulous product and service! Highly recommended! Every mum and bub should treat themselves to a Cushii.
Rebecca D.

Australia
04/06/2020
Five stars!
We're so pleased with our new Cushii Lounger!! I absolutely love the modern prints Cushii has to offer. We went with the Marula Steel & it has been a success with our newborn. We found the materials to be comfortable & breathable for our bub to lie on without a fuss. We highly recommend this product. Team Tuariki www.instagram.com/teamtuariki
04/01/2020
Awesome! Bub loves it
My bub absolutely LOVES his! He's a little older (9months) and still fits perfectly. We use it for some chill out time and feeding. For a baby that HATES being on his back he surprisingly really enjoys it in his cushii ! X
03/29/2020
Bubs loves it!
This lounger is absolutely amazing! The colour is stunning and the material is so soft and breathable. My 2 month old son looks so cozy and comfortable when he's in it. (before we had one he'd scream and I'd have to hold him for hours to settle him) now he falls asleep so quickly. I love how portable it is, it has a handle to easily pick it up and move around the house. It can be used on the bed, couch and floor to keep comfortable. I highly recommend this lounger for all parents, and wish I had one for my first child.
03/12/2020
My baby loves the Cushii.
The fabric is incredibly soft and the filling provides the perfect amount of support for my baby to lie in. It's great to use on the bed, on the lounge or anywhere else around the house so that baby can be snug.